ABHRAHAM BENJAMIN DE VILLIERS. It's become clichéd to say, 'is there anything AB de Villiers can't do?' He just keeps turning up and producing jaw-dropping performances and makes the world go crazy around him.
Irrespective of the conditions, the size of the ground or the opposition, de Villiers has just decided to turn on the heat. In the IPL this year, he is keeping wickets, he is batting all around the batting order and donning any role given to him, he is scoring fifties when the team needs, he is finishing games from unthinkable situations, he is changing games like never before. All this at 36 years of age!
If someone sees him playing, there is no way in the world, he or she would believe that this man retired from international cricket 30 months back. Time and time again, he keeps coming up with Superman-esque knocks, mostly when most others around him struggle.
Nearly a week ago, the South African superstar smacked the Kolkata Knight Riders (KKR) bowlers all around Sharjah and scored 73 off 33 balls. Yes, Sharjah was a small ground but every other batsman (or rather player) that batted in that game struggled. De Villiers scored at a strike-rate of 221.21 while the other batsmen combined (from both sides) to total up to 218 off 208 balls in the game.
And now, the master has won Royal Challengers Bangalore (RCB) a game out of nowhere. The RCB side looked doomed in their chase of 178. They were always behind the eight-ball. Devdutt Padikkal struggled while Virat Kohli was looking good but the RCB skipper was dismissed as soon as de Villiers walked to the crease at the end of the 13th over. RCB needed 76 runs from 6.5 overs at that stage which eventually came down to 54 off the last four and 35 off the last two!
And AB de Villiers produces another masterclass. Just like that unbeaten 73 at Sharjah, de Villiers took some time and first got his eye in. He was eight off his first nine deliveries and then in typical AB de Villiers fashion, he exploded.
He hit one six each in the 16th and 17th over against Jofra Archer and Jaydev Unadkat respectively before Kartik Tyagi bowled a fine 18th over where de Villiers could find only one boundary. And even though, the big over that RCB needed and with Gurkeerat Singh Mann struggling at the other end, not once did he lose his calm.
And when his time came in the 19th over, he just murdered Rajasthan Royals and Unadkat. Mr 360 smashed Unadkat for three massive sixes to turn the game on its head and give RCB a real chance. He was slightly helped by Mann's boundary on the penultimate ball of the 19th over. With Archer bowling the final over and RCB needing just 10, de Villiers finished the game in style with two balls to spare to send the RCB camp into jubilation.
De Villiers scored 55 in a mere 22 balls and the innings consisted of six sixes in total. Moreover, it was the 12th time de Villiers got to a half-century in under 25 balls in the IPL.
Most 50s scored off 25 or fewer balls (IPL)

12 D Warner/ AB de Villiers *
7 C Gayle/ K Pollard
6 V Sehwag#RRvRCB

— Deepu Narayanan (@deeputalks) October 17, 2020
It was another innings which saw everybody's jaws drop in awe. And there is one question that persists. How in the world does AB de Villiers produce this kind of magic with such consistency? This isn't the first time he has done it in a run-chase. He has won helped RCB win multiple such games and that too single-handedly.
Here are four of the many instances where AB de Villiers produced magic single-handedly in best run-chases in IPL.
AB de Villiers and knocks in IPL in best run-chases
AB de Villiers in IPL Best Run-Chases #1
90 not out vs Delhi Capitals – 2018
It was RCB's fifth game of the 2018 season and AB de Villiers was threatening to go big in almost every game. But he hadn't really set the stage on fire. But when RCB needed him, he was there to take them home. Rishabh Pant and Shreyas Iyer took Delhi to 174 from their 20 overs.
RCB didn't have the best of starts as they lost their openers in the first five overs and were 29/2. But de Villiers changed the tempo of the game as soon as he arrived. He did have Kohli at the other end but the South African outscored the RCB skipper who was happy to play second fiddle. But once he was out, de Villiers took over firmly and just wrapped up the chase in no time.
He smashed 90 off just 39 balls which included 10 fours and five sixes to helped RCB hunt down 175 in 18 overs. It looked like de Villiers hardly broke a sweat during that run chase and yet, won the game almost single-handedly for RCB.
AB de Villiers in IPL Best Run-Chases #2
79 not out vs Gujarat Lions – 2016 (Qualifier 1)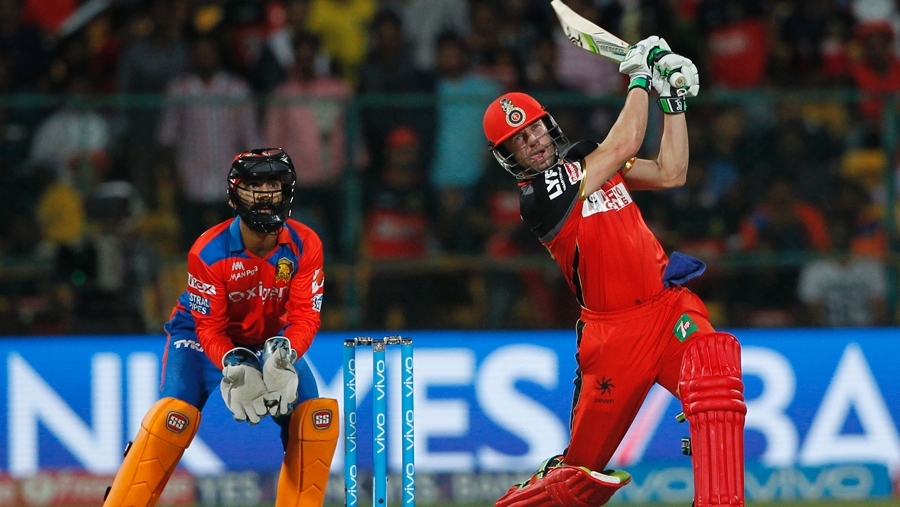 This game just defines the legend of AB de Villiers in the IPL. He single-handedly took RCB into the final of the 2016 season. There is no way RCB should've won that game after being reduced 29/5 in the sixth over chasing 159 in the first qualifier.
Dwayne Smith's 73 drove Gujarat Lions to a decent score but the RCB batting just crumbled. But they had AB de Villiers saving the day. The South African superstar walked into bat at No. 3 and kept losing partners at the other end. The pressure was mounting constantly but he played a magical knock and scored 79 off 47 balls (five fours and as many sixes) and helped RCB get to the target with 10 balls to spare.
AB de Villiers in IPL Best Run-Chases #3
89 not out vs Sunrisers Hyderabad – 2014
After the UAE leg in 2014, this was RCB's first game in India and also the first game at home (the M Chinnaswamy Stadium in Bengaluru). And this is a game that most cricket and IPL fans will remember. David Warner's 61 powered SRH to 155 and RCB were reduced to 38 for 3 in the seventh over when AB de Villiers walked out to bat. He started sedately and scored his first boundary off the ninth ball he faced.
At the 10-over mark, de Villiers was on 11 off 9 balls and RCB were 59/2 and soon became 59/3. But de Villiers came into his own in the second half and batted beautifully. With 59 needed off the last five overs, 37 from the last three and 28 from the last two, things increasingly looked tough for Bangalore. However, he smashed Dale Steyn for 24 runs in that penultimate over to seal the game for RCB. Such was the onslaught and class of de Villiers that Steyn applauded him as well. And that will be one of the most iconic moments of the IPL.
AB de Villiers in IPL Best Run-Chases #4
47 not out vs Deccan Chargers – 2012
47 may not look a big score but this is another game where AB de Villiers tore into Dale Steyn. In fact, it was the first time that he did that to Steyn. In the 50th game of the 2012 season, Deccan Chargers racked up 181 in their 20 overs.
RCB had a good start with TM Dilshan scoring 71 and putting on a 91-run opening stand with Chris Gayle. However, they lost a flurry of wickets and slumped from 91/0 to 117/4. De Villiers had walked in at No. 5 and when Dilshan's fell, he was batting on 2 off 3 balls. At that stage, RCB needed 65 off 28 balls and de Villiers came into his own. Mayank Agarwal struck a couple of lusty blows but the South African brought it down to 39 off the last three overs.
ALSO READ: RR vs RCB – Talking points
Steyn came in and travelled the distance as de Villiers smoked him for 23 runs in the over to kill the chase. RCB won with seven balls to spare in a game where a win looked bleak. De Villiers finished the game with an unbeaten 47 off 17 balls.